An innovative movement draws highly-skilled professionals to the Twin Cities and keeps them engaged in the community.
Peter Frosch, Vice President, Strategic Partnerships, GREATER MSP
The economy in Minneapolis-Saint Paul is strong and getting stronger.  Unemployment fluctuates between 2.8-3.8% and labor force participation hovers around 70% – both consistently among the best in the country.  The metro is home to 16 Fortune 500 companies, the largest private company in the world (Cargill) and a start-up scene that's growing every month and producing major exits.  Today our region is working from a position of strength and chasing a vision of global leadership but we are grappling with how to safeguard our top competitive advantage: workforce.
Retiring baby boomers, low organic population growth and persistent racial gaps in education and labor force participation will create a shortage of approximately 115,000 workers by 2020.  Unless the MSP metro finds a way to improve the performance of our human capital system at unprecedented speed and scale, our prospects for growth, competitiveness and more widely shared prosperity will erode.
This isn't one challenge but a basket of related challenges.  The public workforce system needs to be modernized to pull more people into the labor force.  We need to plug leaks in our development pipeline so more students – especially students of color – enter and complete higher education programs.  And, we need to do something we've never done in this metro before – build a system to strengthen the retention and attraction of the most mobile workers, namely degreed and creative professionals.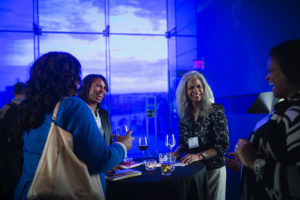 On the last point, enter Make It. MSP.  In October 2015, over 100 partners from the private, public, nonprofit and academic sectors launched a new regional talent initiative.  MSP isn't unique in needing more highly-skilled professionals to fuel growth.  And we're not even close to the first to build a coordinated regional approach.  But based on the inquiries we're getting from other metros, there seem to be some unique elements:
A movement, not a marketing campaign: this work started in 2014 focused on creating and sustaining a huge improvement in the net number of professionals living and working in MSP.  Census data tells an interesting story: Minneapolis-Saint Paul retains professionals (people with a BA or above) best among the largest 25 U.S. metros but ranks #19 of 25 on attraction.* Translation: people love MSP but too few people know it.  None of our partners from Fortune 500 CEOs to 20-something tech entrepreneurs believed a traditional marketing campaign was the answer to maintaining our retention strength and drastically improving attraction.  Instead, we set out to build a movement of people and organizations that would tell authentic stories about this place to the world and tackle internal challenges standing in the way of greater success.  Movements can grow fast, inspire shared ownership and encourage innovation.  They have authenticity because they are rooted in shared ideas. So our initial task force developed the core principles of the Make It. MSP. movement: Improve social inclusion; Support innovative talent; Connect talent to community and employers, Close near-term talent gaps.  Today, thousands of individuals and hundreds of organizations (including many YALP alumni) are working together to build the next MSP so innovative, ambitious people from anywhere can come, stay and thrive here.
Customer-centered: From the start, we were surprised how little employers knew about the people they most need to attract and retain.  In response, a massive insight-gathering effort was a year one priority.  We focused on strategic groups for MSP: newcomers, professionals of color, tech talent and large employers.  We built cross-sector teams around each and collected over 5000 data points.  We are now sitting on multiple, original data-sets revealing the preferences, needs and concerns of our metro's high-priority talent segments.  The cost of all this was modest because our partner network – cultivated starting in 2014 – sourced the "customers", motivated by the principles that define Make It. MSP.  The teams are now using the fresh insight to drive regional change by making the case for action to regional leaders and designing strategies to improve retention and attraction in these key segments.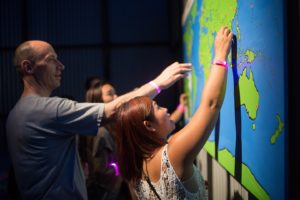 From lean start-up to Team of Teams: we started with a big, relevant problem but no data, dedicated budget or staff.  Necessity led us to the lean start-up approach: focusing on customer needs, finding an MVP for our product, failing fast and iterating to excellence.  Producing high-quality solutions (e.g. new digital platform makeitmsp.org) to real business problems (selling MSP to prospective employees) quickly and cheaply helped earn the confidence of Target, Ecolab, United Health Group and 20 other major employers in our nascent partnership.  Our core team of 3 GREATER MSP staff is now transitioning the initiative from start-up to growth mode.  We are experimenting with the Team of Teams system to centralize planning and decentralize execution across a network of contractors, aligned partners and a growing "user base" of employers.
So when people ask "What do you mean it's more than marketing?" We tell them Make It. MSP. is a new commons with different rules.  It's a digital network and authentic community where 1000s of people and organizations exchange value (think Airbnb for talent).  It's a regional innovation project that flips the script on leadership – empowering rising professionals to guide established leaders.  And it's a platform to take bold but necessary risks no organization alone would accept.
Check us out:
#makeitmsp
Peter Frosch
Vice President, Strategic Partnerships
GREATER MSP
*Myles Shaver (University of MN) analysis, IPUMS-USA data (University of MN)